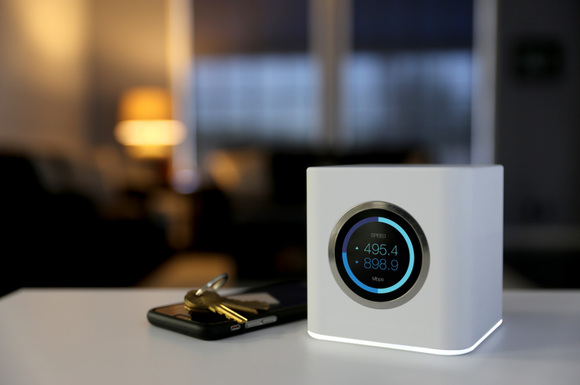 02 Aug

Tiny Solution to All Your Wi-Fi Dead Spots

Introducing the one-stop solution to the dead zone problem – the Amplifi router. Not only is it compact, fast and easy to use, it looks really stylish too and all this at $200 a pop.

While this might be on the steep side for most people who live in apartments, the $70 TP-Link TL-WDR3600 might look like a better option to them. Now it might very well be the case that you can't draw a straight line from your router to your computer and suffer from one or more dead spots. Neither would you want a looming large machine that sprouts antennas and looks like a GI agnatic black cockroach in your living room.

The soft-touch plastic body has rounded corners and is manufactured by Ubiquiti Networks, networking firm that provides Wi-Fi apparatus for large corporations and the huge radios that bring Internet to the American countryside. The inconspicuous device comes equipped with a touchscreen that displays the time, throughput, or IP address. The two mesh router extensions that come with it can be plugged into a wall to set up in a snap. The mesh points serve to enhance its already great connectivity. We tested it at 100 feet away and still got a signal!

With 4 ports on its back, as well as a USB 3.0 port you are sure to be able to use it in many ways. Powered by a Micro-USB, this device has only one drawback. If you are in a long corridor-style apartment, the mesh points could be messed up by the router being unable to distinguish them. Amplifi has a software patch to rectify the problem and has promised more firmware to better its equipment in the future. The device would be manageable by both the Web-based application as well as a mobile app.

The great news is that it will connect to your phone both via Wi-Fi and Bluetooth. The AC router runs 2×2 MIMO and offer super-fast speeds. If you would prefer something even better, go for the Amplifi HD with 3×3 MIMO that retails for $350 and will be released in September.