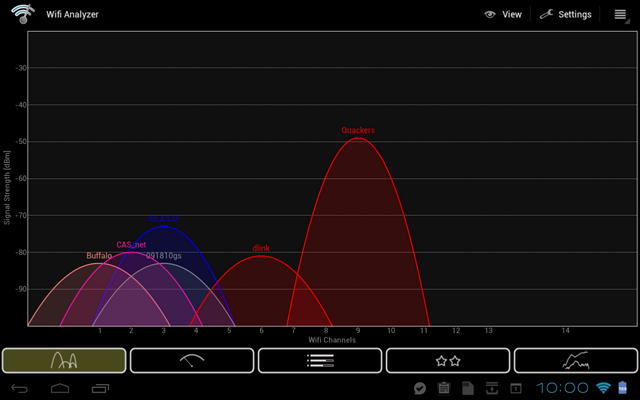 02 Aug

How to Choose the Best Wifi Router Channel

The primary reason you need to choose the best available Wi-Fi channel for your router is to improve the Wi-Fi signal by reducing interference. This is because Wi-Fi signals often overlap with router channels that lie close to each other.

The most popular router channels for 2.4 GHz Wi-Fi are channels 1, 6 and 11. These three channels are the only examples of channels which don't overlap as much. Here are some tools to help you choose the best router channel with the least congestion in your area.
Android – Wifi Analyzer
The best application to use in order to boost your Wi-Fi signal is the Wifi Analyzer on Android. Simply install the free app which is downloadable from the Google Play Store. It will enable you to see all the wireless networks around you and tell you the router channels they are using.
If you would like to see a list of the Wi-Fi channels and their rating, tap the View menu and go to Channel rating. The channels with the maximum number of stars is the top choice. Since this app will point you to the channels that work best with your Wi-Fi network, all you need to do is visit your Wi-Fi router's Web interface and select the perfect one.
iOS – Only for jailbreakers
Apple does not make the feature useable on iPhones and iPads. This is because Apple stops apps that access hardware to obtain Wi-Fi data. In effect, Apple does not offer an app like the Android one mentioned above.
Jailbreakers can opt for apps like WiFi Explorer or WiFiFoFum from Cydia to enable this functionality on their iPhone or iPad. While Apple no longer offers these tools via their official store Cydia maintains them as jailbreaks.
Windows – NirSoft WifiInfoView
While insider worked perfectly in the windows environment, it has since become a premium software. If you don't wish to shell out $20 for the software, a free tool called the Xirrus Wi-Fi Inspector can come to your rescue.
However, if you are looking for something really simple to use NIrSoft's WifiInfoView is your best bet. The best part is that it does not even need to be installed, it can be launched directly.